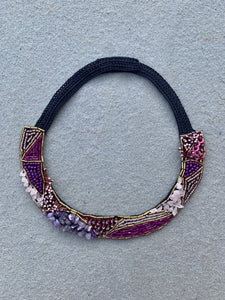 It's beautifully textured with bugle and seed beads, and sequins.  While the tiger eye completes the earthy tones, citrine adds the perfect pop, just like sunshine in spring.

Seyyah's signature "social necklaces" with the brightest seed beads and sequins are perfect staple pieces to elevate your everyday look. 

The social necklaces have two snaps to adjust the length. 
Crochet Base
Length: 19-21" 
Weight: 1.6 oz
Seyyah is a brand of bold, unique, and colorful accessories. Traveling the world, we are inspired by the unique mix of color and texture each city offers. Our designs are all about celebrating this harmony of color and texture.